We are financial experts in the financial sector for more than many years. In the past time, we have traded all kinds of indices, stocks, foreign exchange, OTC market…
With the desire to help people better understand the market as well as provide EA tools for future technology.
Bigwave helps customers create sustainable cash flow, manage capital intelligently, help customers save effort, time, health and psychology.
With the ability to analyze and capture the market through news, we and our teammates have created a Semi Auto BOT with the ability to reduce risks and bring sustainable profit streams.
WHAT DO YOU NEED TO RUN THE BOT?
Bigwave bot connects your forex trading account and bot to execute trades intelligently and automatically.
To automate your trading, you will need your MT4 ID, a Bigwave bot, and a trading platform that is well-supported.
Step-by-step instructions are provided below.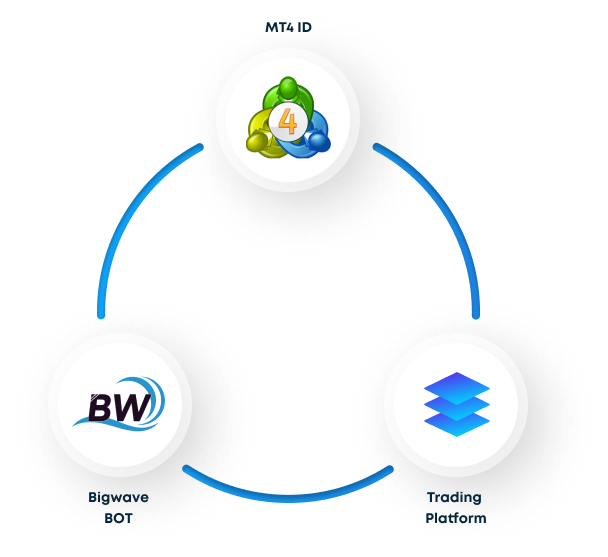 There will be a unique MT4 ID associated with each FX trading account created within a trading platform. You may look up your MT4 ID in any trading pool you're a member of.
We suggest using FX Primus, as it is one of most stable and trust worthy trading platform among all.
Set up the BOT to do the job for you the way you want it to (designing a scenario, setting up maximum buy and sell orders, and so on). There will be a support team to guide you through the bot setup process.
After setup, you will have the scenario ID to link to your trading platform. However, you must first purchase a BOT plan before you can begin.
Step 3
Link to your platform
Customers need to provide MT4 ID, Password and server so that Bigwave's support side can activate the bot (after receiving the customer's fee).
Bigwave side will ensure the customer's security and have control of the Bots. When giving Bigwave customer information, there is only 1 head of Bigwave to manage, so customers can rest assured.
Worry not! cus we're here to help.
Please contact our customer service for more specific instructions.
We have different packages that suit your needs & investments
Risks

Profit guarantee (%)

Number of bots

Cost saving

24/5 Customer support from Fxprimus & Bigwave

Get training on Bigwave bot & the forex market

Get more in-depth training on the market

Get access to Forex Experts
Basic
Price Contact
Deposit $2000, earn min 60%/ year Anual renew after first year: $500
Get stared
3% - 5%

5% - 15% / month

1 bots

0%

✓

✓
Advance
Price Contact
Deposit $20000, earn min 60%/ year Anual renew after first year: $5.000
Get stared
3% - 5%

5% - 15% / month

10 bots

20%

✓

✓

✓

✓
Premium
Price Contact
Deposit $200000, earn min 60%/ year Anual renew after first year: $40.000
Get stared
3% - 5%

5% - 15% / month

100 bots

50%

✓

✓

✓

✓
Basic
$1.000 / year
Deposit $2000, earn min 60%/ year Anual renew after first year: $500
Get stared
Risks

Profit guarantee (%)

Number of bots

Cost saving

24/5 Customer support from Fxprimus & Bigwave

Get training on Bigwave bot & the forex market

Get more in-depth training on the market

Get access to Forex Experts
3% - 5%

5% - 15% / month

1 bots

0%

✓

✓
Advance
$8.000 / year
Deposit $20000, earn min 60%/ year Anual renew after first year: $5.000
Get stared
Risks

Profit guarantee (%)

Number of bots

Cost saving

24/5 Customer support from Fxprimus & Bigwave

Get training on Bigwave bot & the forex market

Get more in-depth training on the market

Get access to Forex Experts
3% - 5%

5% - 15% / month

10 bots

20%

✓

✓

✓

✓
Premium
$50.000 / year
Deposit $200000, earn min 60%/ year Anual renew after first year: $40.000
Get stared
Risks

Profit guarantee (%)

Number of bots

Cost saving

24/5 Customer support from Fxprimus & Bigwave

Get training on Bigwave bot & the forex market

Get more in-depth training on the market

Get access to Forex Experts
3% - 5%

5% - 15% / month

100 bots

50%

✓

✓

✓

✓